Please help the Lake Stewards of Maine (LSM) track ice-in and ice-out dates for your lake!
Submit your ice-in and ice-out dates using our online submission form.
•What is ice in/ice out?
•Ice Out Map
•Recorded presentation of Lake Ice Trends with Lloyd Irland
•Where's the Ice?
•Other Lake Ice Water Column articles
But how exactly do I determine ice-in and ice-out?
The LSM collects information about when lakes freeze over in the fall or winter (ice-in), and when the ice melts in the spring (ice-out). Historically most people have only noted ice-out, but increasingly scientists are recognizing the importance of knowing how long lakes are under ice cover, and therefore ice-in is becoming more widely tracked as well. As a storehouse of scientific information for Maine lakes, we feel that this is an important trend to monitor, especially considering the very unusual weather conditions that have occurred in recent years.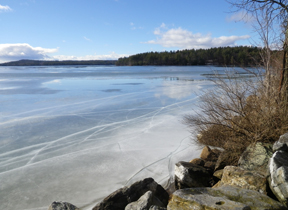 Ice-out is determined when the lake becomes clear of ice in the spring. However, the method of determination often varies from one lake to the next. Observers for some lakes will declare ice-out only when every last vestige of ice is gone, others will wait until the main part of the waterbody is free of ice, and some base it on a rough percentage of how much ice is gone (80% of ice is off the lake). The most important thing to remember in determining ice-out is to follow the method that has been used for your lake historically. If your lake doesn't have a record of ice-out, we recommend that ice-out be declared when the majority of the lake surface is navigable.
Ice-in can be even more difficult to determine than ice-out, and most lakes don't have a historic record of these dates. Ice-in occurs when the lake is completely or nearly completely covered with ice. However, lakes can thaw after an early ice-in, and remain open for weeks until the ice finally closes in for the winter. Because lakes can freeze and thaw multiple times, we track the first instance of ice-in as well as the point in time when the lake is covered until the ice goes out in the spring. It should be noted that skim ice should not be counted as an ice-in.
---
Some methods for determining ice out
We want to stress that if there is a method already in place to continue using that method. The continuity of the data is vital to accurate representation in the data.
If you are looking at collecting ice-in or ice-out informati0n on your lake and there is no historical way this was collected, or that has been lost, we have several recommendations that may make the process easier.
1) Create a group of observers who are responsible for making this determination. It is important to have multiple people involved in this process, or at the very least a clear operating procedure by which the ice-in and ice-out dates are determined. This ensures that there is continuity over time and that if someone is unable to be at the lake during the change, the observation will not be missed.
2) Create a photo station. A photo station is a permanent structure that allows for a camera, smart phone, or  simply a person to observe a specific area of the landscape. The photo station, ensures year-to-year changes can be recognized because the major components of the landscape do not change, while the more temporary elements do. This strategy is employed widely in ecology work, from documenting glaciers, to tree cover, to erosion, to changes in marshes. It is important that the specified viewshed be an agreed upon by the group in charge of determining ice cover changes, and that it be in a location that is easy to access, but will not be removed, disturbed, or otherwise compromised in the foreseeable future.
To construct a photo station, it can be as simple as 4″x4″ post with a notch cut into it and a concrete base sunk into the ground, to a box-like enclosure, to an elaborate frame anchored in the landscape. The Association of Fish and Wildlife Agencies discusses this further in their document entitled "Photo Point Monitoring, Using Technology in Field Investigations to Monitor Change Over Time", as has the US Forest Service in their publication Mountain Views Vol. 7, No. 1, Spring 2013.

The photos are from "Photo Point Monitoring, Using Tec… Over Time". They are arranged in sequence 2010, 2014, 2015. You can see the loss of the tree is highlighted by the red oval.
3) There are many methods to making the determination and it in-part depends on your lake. Multiple basins, shade from mountains and forests, and the hydrology all play into how a lake's ice coverage is determined. The group that is making that determination has the final say and there are many examples beside the photo station from around the state. Taylor Pond has a group of several volunteers that make the determination by calling one-another and coming to an agreement. Nickerson Lake in Aroostook uses a weighted block and a battery clock to determine the ice-out time. They hold a contest each year. This data is extremely valuable, we thank you for your help.
---
Lake Ice Regimes: Some Baffling Trends and Challenges for Citizen Science
Presented by Lloyd Irland; Aired Friday, July 24, 2020
Maine's lakes are clear in no small part due to the fact that historically they have been covered with ice and snow. Recent studies have shown that a warming climate is affecting this relationship. Lloyd Irland has advanced the research pertaining to historical lake ice data through additional analysis, and by taking into account the total period of ice cover, including "ice-in" information, where available.
Lloyd Irland, PhD; Research Scientist, Author & Consultant has served in Maine state and local government, as a consultant, and an author writing on a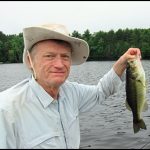 range of topics concerning Maine's natural resources. He has recently advanced the research regarding changes in the phenology of ice cover on Maine lakes.  He has been involved in these lakes for many years, serving on the Belgrade Planning Board, the Wayne Comprehensive Planning Committee and select Board, and its Conservation Commission. He is also a member of the Lake Stewards of Maine Advisory Board. Lloyd is currently writing a book on Maine's wildland rivers, and he lives on a tributary to Androscoggin Lake in Wayne.
---
Where's the Ice?
By Scott Williams
Please note:  this article is from the Winter 2007 edition of the Water Column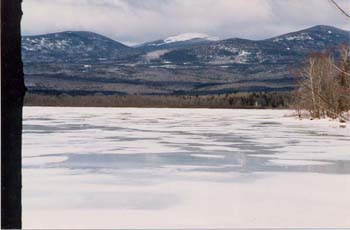 When I was young it was often possible, and reasonably safe, to skate on small ponds in southwestern Maine by Thanksgiving, or shortly thereafter. It is now mid-January, and very few (if any) of Maine's lakes would be considered safe for recreation. In fact, many of our large lakes remain free of ice altogether, following several weeks of unusually warm weather. The Maine Departments of Inland Fisheries and Wildlife and Public Safety have recently issued several warnings to stay off lakes and ponds that are frozen, due to dangerously thin ice.
During my regular commute to the LSMs Brackett Center I drive past the northerly shoreline of beautiful Lake Auburn. For the past month, while gazing out at the sparkling waves and deep blue water, I have been struck by the feeling that something is seriously out of kilter. Let's face it, seeing whitecaps on a Maine lake in January is, in the words of several others who have recently commented on this unseasonable phenomenon, kind of weird.
This should all come as no great surprise. After all, record-breaking warm temperatures were documented throughout Maine in November and December. Speaking of record-keeping, as many of us who have spent time on or near a particular lake over the years know, a good deal of effort has gone into guessing, and ultimately tracking ice-out dates. Some of these "data" were uniquely recorded as scribbles on the inside of a barn door, or retained in some other memorable form. For example, Earl Bacon (father of DEP Biologist Linda Bacon) used to enjoy being able to make the annual claim that he had been swimming in Messalonskee Lake in Belgrade just a day or two before the onset of ice cover. A few days ago he told Linda that the ice-on date for Messalonskee this year will be several weeks later than it typically was in the 1920's and early 1930's! In other words, his late season swim probably took place in November, as opposed to the middle of January. This is a great story, full of imagery and potentially useful anecdotal information. Perhaps you have some of your own to share with us?
Local records were very helpful in the review of information conducted several years ago by USGS Hydrologist, Glenn Hodgkins, in which it was determined that the duration of ice cover for a number of New England lakes has been getting shorter over the past century. However, there is relatively little information available concerning ice-in dates. Perhaps we should be paying closer attention to this phenomenon, as well, because the overall annual duration of ice cover on lakes and ponds can certainly influence many of the physical, chemical and biological processes in these complex ecosystems.
You may recall that the winter of 2005/2006 was also unusually warm, as have been a number of recent winter seasons. If warmer weather increases over time, as climatologists who study global warming say it will, changes to our lakes will almost certainly occur, although exactly what those changes might be is the subject of a good deal of speculation. At the most simple, basic level, an increase in both water temperature and sunlight penetration into the water column, resulting from reduced ice depth and duration of cover, could cause an acceleration of biological processes in our lakes. Our lakes and ponds could experience increased algal growth, reduced water clarity, lower levels of dissolved oxygen in the water (as indicated by Green Lake volunteer monitor Bob Dunlap in a recent Water Column article), and an increase in the spread of invasive aquatic plants. But the complexity of lake ecosystems, along with our limited knowledge of the way that they respond to influences, allows us only to venture educated guesses as to what could happen if dramatic changes in the weather occur in the future.
All of this provides another valuable opportunity for volunteers to gather data that could significantly improve our understanding of the impact of climate warming to Maine lakes. If you live nearby the lake that you monitor, consider tracking the date when ice cover is first observed on the lake in early winter (ice-in), as well as the day when the lake becomes free of ice in the spring (ice-out). We are working on definitions for both, in order to insure consistency in data provided by volunteers, recognizing that ice-in may be a more difficult call, and that both dates could be difficult for large lakes with complex shapes. Beyond the implications that this information may have for lake water quality, the public has had an interest in local information concerning ice cover on lakes for centuries. Ice-in and ice-out data would ostensibly be of general interest if made available on the LSM website link to individual lakes, with the potential to draw the general public in to consider the broader implications of lake data.
If you, or someone you know has kept track of ice data for the lake that you monitor, please consider sharing this information with all of us. It just might complement some of the other data that have been collected on your lake over the years. We're also working on developing a way for volunteer monitors to post lake ice data directly to our website. Stay tuned.
Global warming is a frightening prospect not just because of the consequences that are thought to be understood about this process, but more so because of what is not known. There is no question that volunteer lake water quality monitors and invasive plant patrollers will play a vital role in our understanding of this phenomenon. This is a particularly critical time for volunteers to be gathering data, because it is possible that the influence of climate change will exacerbate many of the known threats to Maine lakes, including cultural eutrophication and the spread of aquatic invaders. Time will tell, but not without your help! As Bill Monagle suggests in this newsletter, LSM volunteers have their fingers on the pulse of Maine's lakes and ponds. Regardless of the nature of the threat to our lakes, the information that volunteers collect will have a strong bearing on our ability to understand and protect our lakes, now and for the foreseeable future.
---
Other articles on lake ice from The Water Column:
A Maine Lake In Winter Winter 2007 page 4. 
Correlation of Late Summer Hypolimnion Oxygen Concentrations with Ice-out Dates for Green Lake, Maine Winter 2004 page 8